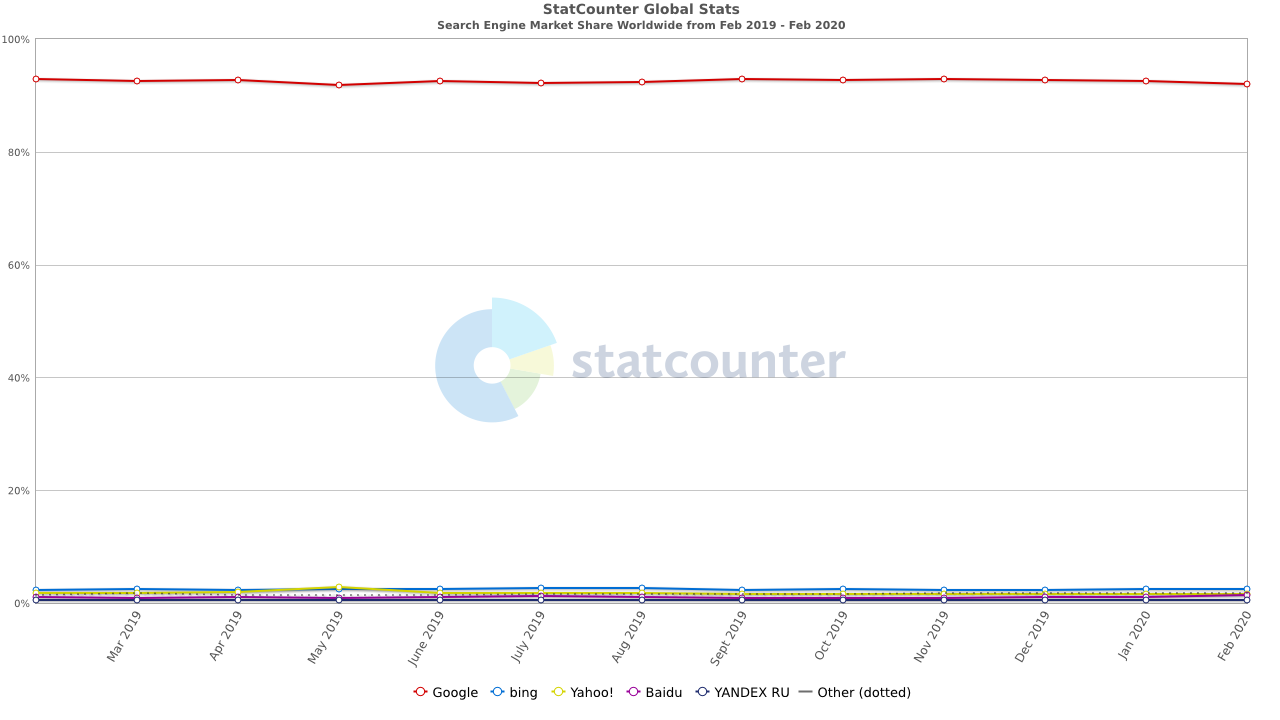 We're all optimising for Google, and with Google's Search Engine Market Share hitting 92.07% this month globally (and over 93% in the UK according to StatCounter), it would be counter-productive to your organic optimisation not to pander to the market leader. However, there are actually hundreds of other search engines out there (believe it or not) which some businesses may choose to focus their SEO efforts on, for an array of reasons.
We'll run down the Top 10 Search Engines in the World (essentially, Google and the 'often-forgotten' 10) in this article and raise some potential reasons to optimise outside the box.
Top 6 Worldwide Search Engine Market Share:
Google – 92.07%
Bing – 2.44%
Yahoo! – 1.62%
Baidu – 1.49%
Yandex RU – 0.54%
Sogou – 0.43%
Top 6 UK Search Engine Market Share:
Google – 93.02%
Bing – 4.41%
Yahoo! – 1.45%
DuckDuckGo – 0.58%
Ecosia – 0.35%
Yandex RU – 0.03%
Top 10 Search Engines and the Search Engine Optimisation opportunities:
Google – Launched in 1996 by Larry Page and Sergey Brin, Google is one of the longest-standing Kings of the search engine world. We've often written about SEO (it's a digital marketing staple) and optimising for Google is clearly taking the route of least resistance (and the opportunity for most gains) when it comes to improving your organic traffic. With their global market dominance, Chrome's in-built search and the majority of Android devices defaulting to Google as their search engine, Google is going to dominate almost by default.Interestingly, Google recently lost out in the EU as they have been forced to introduce the "choice screen" following an anti-trust ruling from the European Union where they were fined a record $5 billion by EU regulators, to stop the company "illegally tying" Google Search and the Chrome browser to its mobile OS. Despite this, the 92-93% dominance in the UK and Worldwide has to be leant towards when it comes to SEO and keeping up to date with the latest algorithm changes (oh, "Hey, Bert") is a vital part of our digital team's day-to-day work.

Bing – Microsoft's alternative to Google garners 2.44% Global Market Share and 4.41% in the UK, making it the next best contender when it comes to search. With it's origins in two main products, MSN Search (who remembers MSN?!) and Window's Live Search, it was technically established as late as 2009, but it draws on ample experience from it's parent platforms, often offering up informative in-platform answers to queries, rather than just links to other content. With it's homepage featuring plenty of news stories (too many?) it is trying to be an information source which serves relevant and timely content beyond your original search intent (does this take away from it's root purpose? Does this meet the customer needs/UX? Questions for another time).Bing does offer some opportunities as it is rather famous for its marginally more affordable digital advertising packages, as an extension of the SEO. However, there may be some attrition to this market share, particularly in the EU/UK as a result of the aforementioned EU ruling on Google having to open up the default list of Search Engine providers in it's Android OS, with recent statistics showing DuckDuckGo as the most frequently offered choice and Bing tied for last place. Plus, with Bing powering a huge volume of the dominant forces in Voice Search (powering the likes of Amazon's Alexa & Microsoft's Cortana, although Google still runs Siri), utilising Schema Markup should be a vital element of your SEO strategy. As a global alternative, optimising for Bing should not be neglected.

Baidu – With 1.49% of global search engine market share (1.89% on Mobile) in Feb 2020, you'd be right to assume this is a small piece of the pie, but Baidu still ranks among the world's top search engines with the fastest growing market shares. Why? Baidu utilises a powerful AI system to filter information and deliver the most accurate and relevant search results. Opportunities lie in the fact that Baidu's organic search algorithms are simpler than Google's, and the company offers more flexible paid systems.The challenge with this, however, is that all of this only really applies if you're trying to tap into the large (and ever-growing) Chinese market. Setting up with Baidu, especially if you live outside of China, is a real challenge particularly as it is only available in Chinese. Tapping into this platform's vast potential marketplace requires some investment in a Chinese-fluent digital marketer. Or you could, ironically, just use Google Translate… (Note: please don't actually do this, Baidu's native Chinese AI will spot it a mile away).

Yahoo! – We all remember the TV ad jingle from the late 1990s – early 2000s, don't we? Founded in 1994, Yahoo is a stalwart of the search engine world. However, it has a potted history of successes and failures, which has led it to being a bit of a joker in the pack. After its establishment in the mid 90s, the company was performing relatively well thanks mostly to a lack of genuine market competition (and being bundled natively with browsers and/or forced as the default search engine provider via other installed software). However, their main business failure hit in 1998, when Google's founders offered to sell their company to Yahoo! for just $1,000,000, but Yahoo! rejected the offer.This was a decision they would later rue as Google eventually powered past Yahoo!, primarily thanks to Gmail attracting more customers than their own Mail alternative.Other Yahoo! products also ended up performing poorly, with their Flickr and Yahoo! Answers platforms eventually losing out massively to the likes of Instagram & Quora, respectively. The irony of all ironies here? Yahoo!'s search engine platform is powered by Bing (they've gone back and forth with Google and Bing over the years, but recently reverted to bing in October 2019) – so, the optimisation opportunity here is to optimise for Bing to optimise for Yahoo!, offering a Win-Win workload. That being said, this tactic hasn't worked so well thus far in an attempt to take share away from Google, but you can't blame them for trying.

Yandex – Much like Baidu, Yandex is very much territory dominant, with Russia's most popular search engine taking 0.54% of the search engine market. Founded in 1997 by Arkady Volozh and Ilya Segalovich, it has since expanded into other territories including the Ukraine, Belarus, Uzbekistan, and Kazakhstan to name but a few. It's strength lies in it's sub-product diversification including it's own Maps, Music and online translation facility – they have even attempted to take on Google's Drive storage solution with their own Disk product.The main benefit for Yandex over Google in these territories is the ability to understand and extrapolate inflection used in an array of Russian dialects, ensuring search queries return more accurate results than some of their industry counterparts.In terms of optimisation opportunities, this only really benefits companies working with Russian customers, but taking into account correct language translation functionality on your site would certainly be beneficial.Yandex uses the latest in technological advances in their search engine, trying to emulate the Google algorithm in the process, ranking sites according to links and content and other similar technical SEO practices, giving credibility to the sites that are the most trusted and authoritative to put them higher up in their SERPs.

Ask – With question-answer format dominating search once again, and Google pandering to this with it's favouring of featured snippet (aka Position 0) results, it could be said that Ask.com (the artist formerly known as AskJeeves) was ahead of it's time, and behind the times in it's potted history.Ask has tried to maintain a "question answering" format, priding itself in having one of the most efficient question and answer communities and archives out there – but, where an answer doesn't exist in their archives, Ask.com will reference other search engines, and this element is currently powered by Google – so, another reason to optimise for the market leader.

DuckDuckGo – With global digital headlines being plagued by Privacy and Information Handling issues, particularly in recent years, DuckDuckGo's USP is to take away those concerns. Whilst most other search engines harvest and store data, some-argue making them the most valuable mines in existence in the process, the risks of sensitive information falling into the hands of malicious third parties are ever-present and this provides a genuine opportunity for a more ethical-led approach like DuckDuckGo's.The 12 year old search engine alleviates those concerns by not storing personal data, not following users around with ads and not tracking users (with cookies, pixels, etc). It also offers a similarly user-friendly interface to the market leaders, which is very clean largely thanks to the lack of advertisements. One main drawback is that DuckDuckGo does not have its own search index, and relies instead on an amalgamation of results from Bing/Yahoo and community-driven platforms like Wikipedia and co – so, again, optimising for Bing and question-answer formats would be advantageous here.

Naver – Another territory dominant platform, Naver is the go-to search engine in South Korea, often termed the 'Google of South Korea' and was formed by a team of ex-Samsung employees in 1999. Commanding over 75% share of the country's search engine market (although a very low percentage of the global market), Naver also features an email client, a children's search engine (Junior Naver), an encyclopaedia, PRISM Live Studio (a streaming service), and a news portal – diversifying in a similar way to Yandex and Google to tie users into their brand.They have tried taking on the Yahoo! Answers and Quora format with Knowledge iN, which now possesses a database of over 200 million answers, pandering to the question-answer format previously discussed. One of the search engines you may not have heard of, optimising for it is rather tricky, but utilising schema markup, bulleted and numbered lists and structured data, along with semantic Korean language, may help you optimise in this area should it be of benefit to your business to do so.

AOL – Iconic, classic and one of the original ISPs, AOL was founded in 1985 and drove the uptake of dial-up internet and email in the 90s and early 00s. As well as providing a web portal, e-mail, instant messaging and later a web browser (who remembers Netscape?), media is where AOL focusses it's attentions – in 2001, at the height of its popularity, it purchased the media conglomerate Time Warner in the largest merger in U.S. history.This was the start of the demise of AOL, partly due to the decline of dial-up and rise of broadband, and the brand was eventually spun off from Time Warner in 2009.A little like Microsoft's home platform, search is almost a secondary consideration for the AOL environment as since 2009, they have positioned themselves as more of a media outlet, and the platform looks to serve news and content driven largely by their acquired media outlets, such as TechCrunch and the HuffingtonPost websites. AOL was acquired by Verizon Communications for $4.4 billion in 2015 and continues to be more of a media outlet than a dominant search engine.

Ecosia – We wrote previously about a trend whereby standing for something to stand-out is important in the digital landscape. This is where Berlin-based Ecosia comes in – it is a search engine that, in essence, uses its profits to plant trees, donating 80% of it's profit to reforestation charities and non-profit organisations. Despite having to take on goliath's like Google & Bing, interestingly Ecosia chose to boycott the aforementioned Android 'alternative browser' auction entirely. CEO and founder Christian Kroll said Google's decision was "at odds with the spirit of the July 2018 EU Commission ruling." Kroll said Ecosia would be raising its concerns "over Google's monopolistic behaviour with European Union legislators." – Another example of their moral standing.From an optimisation point of view, Ecosia's search results are provided by Bing and enhanced by the company's own algorithms, so, once-again optimising for the big search engines is still best practice.Interestingly, however, they have adopted a little of DuckDuckGo's ethical stance on privacy, becoming a 'privacy-friendly' search engine. Searches on Ecosia are encrypted, not stored permanently, and data is not sold to third-party advertisers – in it's privacy policy the company states that it does not create personal profiles based on search history, nor does it use external tracking tools like Google Analytics – however, in the moment of the active search they do present advertising, monetising the platform for it's wider ethical goal.

Sogou – China's alternative to Baidu, Sogou (literally "search dog") is a spin-out from the Sohu.com company and has specialised in web search since 2004. It's fair to say they try to emulate the west's leader, Google, in many ways (just check out that logo!). Like Yahoo, it has had a potted business history, but has seen substantial growth since 2013, when the company sought out new partnerships during the explosion of Chinese tech development. A merger with Tencent's SoSo.com (the 4th top search engine in China) saw an  equity investment of $448M and by 2014, Sogou became the default search engine for QQ.com (the 2nd biggest website in China), and the platform became the only search engine to be able to search WeChat public accounts.Some shrewd business has seen Sogou grow as a business, floating on the NYSE in 2017 raising $585 million in the process, helping the platform drive to now claiming around 16.7% of the mobile search market in China. They have since developed technology which allows them not only to deliver highly accurate voice search results, but Lip Reading Technology which operates at c90% accuracy – which is higher than Google's version of the same tech. At this early stage, there seems to be little difference in optimising for this over normal voice and organic search – however, optimising for Bing once again may be beneficial in this market, as Sogou uses Bing to search for English results, then returning the results translated back into Chinese.
In Summary:
So, you'll have likely never used the "other" top 10 search engines we've uncovered in this article, and the numbers would imply that this is likely to continue to be the case, but being aware that there are 'other' options out there, being used in other markets and other territories to your own may still help unlock some ideas when it comes to your own Search Engine Optimisation and wider digital strategy.
Like most agencies, we'll continue to optimise primarily where the volume lives: In the UK and worldwide that is clearly Google, however it is important to be mindful-of and to be armed-with the knowledge and wider industry understanding to keep a finger on the pulse of search engine trends. This level of understanding is vital in ensuring our clients are mindful of what else is out there when making strategic campaign and search optimisation decisions. Coupling this understanding with the other emerging digital trends of 2020 means our clients can be ahead of the curve when it comes to delivering a high-impact, data-driven digital marketing strategy, ultimately, contributing to business growth.