In this episode:
Hosts Dan and Phil chat to Bill Sweeney, CEO of England RFU. Highlights include insight on how rugby has had to make adjustments in the last year, what it was like overseeing two incredibly successful Olympic games, insights on management, getting sung to by a President, and how he made his dreams become reality to work in the world of sports.
About this Wonderful Person:
Bill Sweeney's achievements in blue chip business and elite sport saw him appointed Chief Executive Officer of the Rugby Football Union in May 2019, after serving nearly six years as Chief Executive Officer at the British Olympic Association.
A record-breaking London 2012 Olympic Games preceded Team GB becoming the first nation to win more medals in the following Rio 2016 Olympic Games, when they came second in the medal table. During Sweeney's tenure, Team GB also delivered best-ever performances at two consecutive Winter Olympic Games. He left a very strong British Olympic Association, both financially and in readiness for Tokyo 2020.
His earlier business career included senior roles at adidas and Puma, and corporate management with Shell, Mars and Unilever.
Although a lifelong rugby supporter, he was initially a schoolboy footballer at Chelsea FC and then English Universities captain. He switched to rugby first with Aberdeenshire RFC and then Abu Dhabi, Rosslyn Park FC and Weybridge Vandals RFC. He now has strong connections at Richmond FC.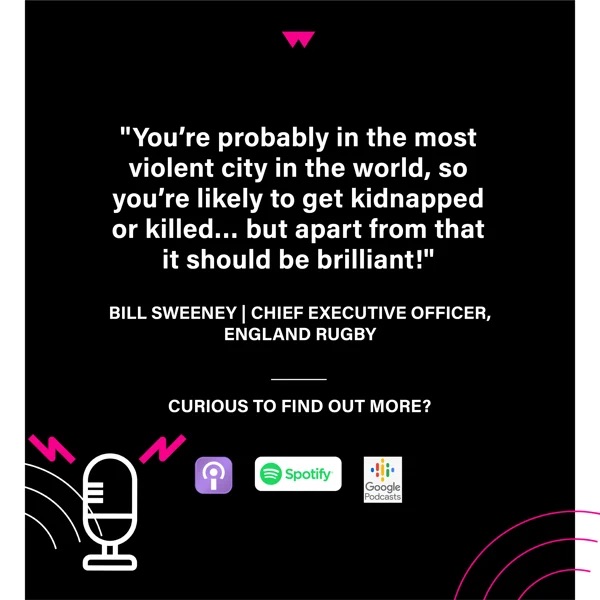 Listen now :
The Wonderful People Podcast is available on Apple Podcasts / iTunes, Google Podcasts, Spotify, TuneIn… in fact, you can even ask your smart speaker to play it (try saying "Alexa, play The Wonderful People Podcast").
With new episodes released regularly, it's definitely worth subscribing to hear some phenomenal stories from creatives, technologists and digital pioneers.
Enjoying The Wonderful People Podcast?
Please Subscribe, Share and Leave us a Review on your podcast platform of choice so we can continue to grow this into a platform for sharing truly wonderful stories from some of the most amazing people in our industry and beyond.