In this episode:
Hosts Dan Maudhub and Phil Jones are delighted to talk to one of the creative industries best loved characters (and voices), the wonderful Carol Whitworth, Founder of global internal communications consultancy HOME and lead singer of Bristol's ULTIMATE party and festival band Doreen Doreen. Whether it's taking the US by storm or Glastonbury, one thing is certain. Everything this lady does is full of passion and personality. From Creativity to Crabs to Playing at Glastonbury! We'll also find out a little bit more about how HOME was built, what makes it special and how it feels to be nearing 40 years in business.
About this Wonderful Person:
Carol Whitworth is an entrepreneur, a people champion, a creative force, a fearless provocateur and a magnificence enabler. Not one to shy away from new ideas and starting something from the ground up, she is the Founder of global internal communications consultancy Home, and founder and lead singer of her 11 piece band Doreen Doreen that play the likes of Glastonbury with a heavy south-west fan base.
Carol is a seasoned speaker at conferences across the world, speaking on importance of creativity in employee communications, company culture and meaningfulness at work. She is an avid fan of the ukulele, a good sing song, and all things musical, spontaneous and creative.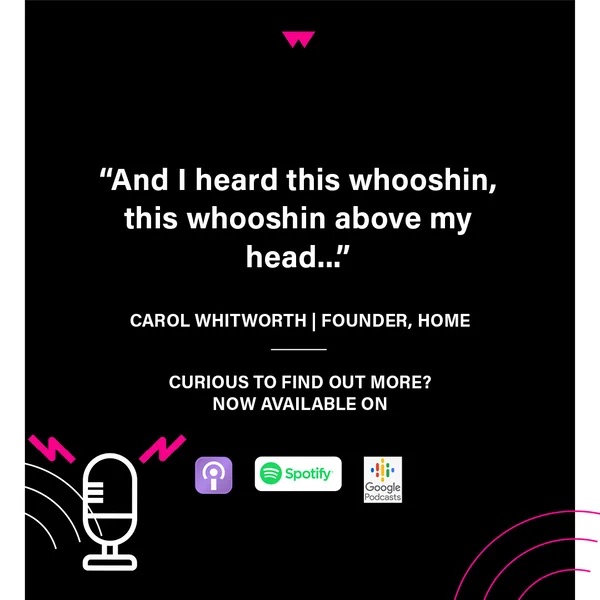 Listen now :
The Wonderful People Podcast is available on Apple Podcasts / iTunes, Google Podcasts, Spotify, TuneIn… in fact, you can even ask your smart speaker to play it (try saying "Alexa, play The Wonderful People Podcast").
With new episodes released regularly, it's definitely worth subscribing to hear some phenomenal stories from creatives, technologists and digital pioneers.
Enjoying The Wonderful People Podcast?
Please Subscribe, Share and Leave us a Review on your podcast platform of choice so we can continue to grow this into a platform for sharing truly wonderful stories from some of the most amazing people in our industry and beyond.