In this episode:
hosts Dan Maudhub and Phil Jones have the pleasure of speaking to Craig Johnston from Australia, one of Liverpool's most loved players, and the man behind the best selling football boot, "The Predator". There are many chapters to this remarkable life of a footballer turned inventor, listen in as he shares some of his Wonderful stories.
There are two parts to this amazing episode (12 & 13) now available to listen here on apple podcasts! Episode 12 | Episode 13
About this Wonderful Person:
Craig Johnston is an Australian former professional footballer. He played as a midfielder in the English Football League between 1977 and 1988, winning the European Cup, five league titles and an FA Cup (scoring in the 1986 final) with Liverpool. He won more major football medals than all the other aussie football players in european football put together. He played 271 games for Liverpool, scored 40 goals, and won 7 trophies including the famous double.
After retiring from the game, Johnston being a natural innovator and creative thinker, found success as a businessman, designing the prototype for the best selling football boot, the Adidas' Predator using his extensive knowledge from his football training days. The world's top players of both football and rugby have been known to don this boot, including David Beckham, Steven Gerrard, Zinedine Zidane, and Jonny Wilkinson to name a few.
Johnston spent a number of years living in the US, he started a career as a Professional Photographer, taking snaps of golfing greats – Tiger Woods to name drop, and also played a celebrity golf tournament in Ireland.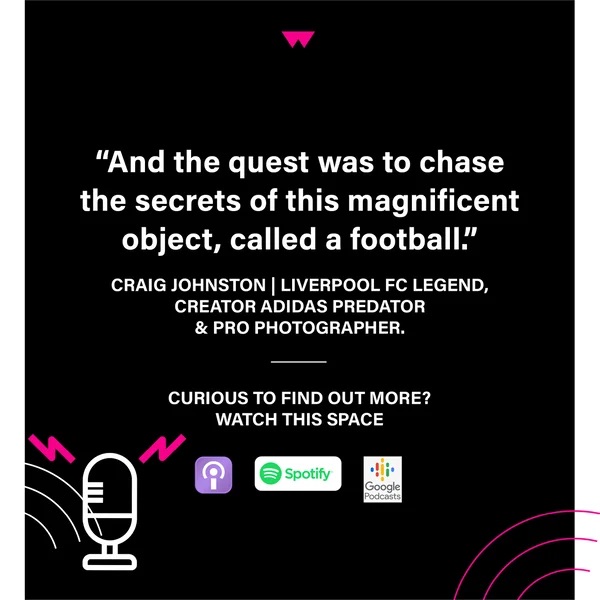 Listen now :
The Wonderful People Podcast is available on Apple Podcasts / iTunes, Google Podcasts, Spotify, TuneIn… in fact, you can even ask your smart speaker to play it (try saying "Alexa, play The Wonderful People Podcast").
With new episodes released regularly, it's definitely worth subscribing to hear some phenomenal stories from creatives, technologists and digital pioneers.
Enjoying The Wonderful People Podcast?
Please Subscribe, Share and Leave us a Review on your podcast platform of choice so we can continue to grow this into a platform for sharing truly wonderful stories from some of the most amazing people in our industry and beyond.