In this episode:
Hosts Dan Maudhub and Phil Jones are joined by Deborah Dawton, The Chief Executive at Design Business Association, as she details her advocacy for design and its impact on business. An ambassador for the UK and overseas, listen as she champions creativity for companies' products and services.
About this Wonderful Person:
After completing her studies for an industry degree at Newcastle Polytechnic, Deborah delved into the creative world. She exhibited her leadership skills during her 10-year role as managing director for her own business, Design Events.
During this time she completed various projects, for example, the launching and running of DesignSense and for the Design Council on the delivery of Millennium Products – a scheme that showcased innovative and forward-thinking new products and services coming out of the UK.
Notably, her company also undertook self-initiated projects, such as The Young Designer of the Year Awards, aimed at rewarding and celebrating creativity in 14-18 year-olds against a curriculum backdrop that favoured "academic" subjects over creative ingenuity.
After her tenure ended in 2013 she headed the BEDA (Bureau of European Design Association), where she was invited to join the EU's European Design Leadership Board by the then Vice President of the European Union. The goal of this role was to put design at the heart of the innovation policy in Europe.
Deborah continues to champion the significance of design and ingenuity for business in her role as The Chief Executive Officer for the DBA.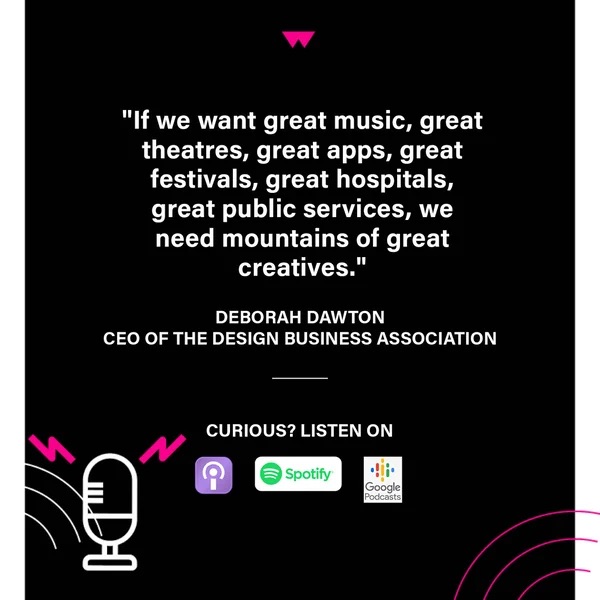 Listen now :
The Wonderful People Podcast is available on Apple Podcasts / iTunes, Google Podcasts, Spotify, TuneIn… in fact, you can even ask your smart speaker to play it (try saying "Alexa, play The Wonderful People Podcast").
With new episodes released regularly, it's definitely worth subscribing to hear some phenomenal stories from creatives, technologists and digital pioneers.
Enjoying The Wonderful People Podcast?
Please Subscribe, Share and Leave us a Review on your podcast platform of choice so we can continue to grow this into a platform for sharing truly wonderful stories from some of the most amazing people in our industry and beyond.