In this episode:
Hosts Dan Maudhub and Phil Jones are joined by Dr Rogan Taylor, who shares his fascinating life story of travel, journalism, stories with football legends Pelé and Puskás, launching the MBA at Liverpool University, thoughts on the latest Super 8 debacle and more. If you're an avid fan of football, you'll enjoy the heart and soul behind Rogan's episode.
About this Wonderful Person:
Dr Rogan Taylor is an Honorary Fellow for the Football Industry MBA at the University of Liverpool's School of Management where he pioneered the world's first post-graduate 'football' degree in 1997: a Masters in Business Administration (MBA Football Industries). This unique qualification has been sending graduates into the football business world-wide for over a decade, creating an alumni network which stretches from Shanghai to Sao Paulo, and Moscow to Manchester. But Rogan's life experiences cover far more than football.  His life journey has taken many entirely unexpected directions.
Rogan left school when he was 16. He went into the army in 1962, just in time for the Cuba crisis. After the army, he travelled extensively.  He was in Baghdad in 1963; he spent five years in India where he bought two horses and a dog and travelled across Assam, into Bhutan and then south to the Burmese border.
He returned to the UK in 1973, then worked as a gardener before going to university in his mid 30s. He has a PhD is in psychoanalysis and primitive religion.
Dr Rogan Taylor has recently retired as the Director of the Football Industry Group at the University of Liverpool where he pioneered the world's first post-graduate 'football' degree. He remains an Honorary Fellow.
He was a founder-member and leader of the first national fans' organisation in UK. He became Chairman of the Football Supporters' Association (FSA) after the Heysel disaster in 1985 and led the organisation through the Hillsborough tragedy. In 1989, he joined The Centre for Football Research at LeicesterUniversity, before founding the Football Industry Group at Liverpool University in 1995.
Rogan is also a writer and broadcaster, with five football books and numerous radio and TV contributions. He has acted as a special adviser to The FA, The Premier League and Premier League Clubs. He has also worked with some of the leading brands with football interests: Coca Cola, Carlsberg; Diageo etc..
"Rogan writes occasionally for newspapers & magazines, and has been involved in numerous TV and radio programmes, including a series for BBC Radio 4. 
Rogan's storytelling is legendary, and he cunningly knits together the commercial and the sporting world with subtle anecdotes that are delivered with passion, humour and a level of mischievousness that engages even the most discerning audience." 
Finance Director, Barclays Bank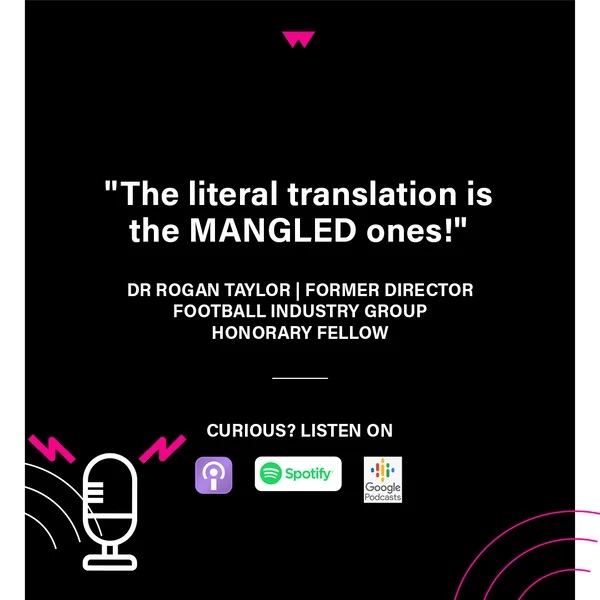 Listen now :
The Wonderful People Podcast is available on Apple Podcasts / iTunes, Google Podcasts, Spotify, TuneIn… in fact, you can even ask your smart speaker to play it (try saying "Alexa, play The Wonderful People Podcast").
With new episodes released regularly, it's definitely worth subscribing to hear some phenomenal stories from creatives, technologists and digital pioneers.
Enjoying The Wonderful People Podcast?
Please Subscribe, Share and Leave us a Review on your podcast platform of choice so we can continue to grow this into a platform for sharing truly wonderful stories from some of the most amazing people in our industry and beyond.