In this episode:
Hosts Dan Maudhub and Phil Jones are joined by Frazer Thompson, CEO of Chapeldown Group. He shares with us his insights into the luxury industry of wine, climate change, e-commerce, tech and Innovation, stories jumping queues with dizzying Heineken status – and more.
About this Wonderful Person:
Frazer is Chief Executive Officer of Chapel Down Group plc, England's largest wine producer.
Frazer graduated in 1981 and, as a Geordie, soon wound up in beer at Whitbread. At the age of 29, having co-led a team to acquire and integrate the Boddingtons brand and develop a highly successful strategy as a response to the Beer Orders, he was made a director of Whitbread plc. He led the team that created the famous Boddingtons advertising campaign and the draughtflow widget amongst other things. one of the most popular British TV ads of the 1990s.
He was poached by Heineken NV in 1995 to become Global Brand Director for the Heineken trademark. Based in Amsterdam, he travelled the World with a brief to sell more beer, make more money and build long term value for Heineken.
He became CEO of Chapel Down (then the recently bankrupt English Wines Group) in November 2001. Since then he has listed the company and created a much awarded and valuable business making some of England's finest wines with a thriving tourism trade. A world record crowd-fund, a Board unrivalled for its size and several strokes of luck and chance later and the company now has a market value of £100m, is one of the LSE 1000 companies to Inspire Britain, is a CoolBrand (in spite of the fact that it's the official wine at Number 10) and a member of the Walpole Group. As sponsors of the Boat Races, Royal Ascot, Donmar Warehouse, LSO, Royal Opera House and of course Tentertainment and Revelation Ashford, the brand continues to surprise and delight its growing congregation.
Investors include Black Rock and IPGL (Michael Spencer) and Nigel Wray.
"My ambition is trying to go to bed a bit less stupid than he was when he woke and making a difference."
Unsurprisingly Frazer enjoys a drink and lives in Fordwich, Kent.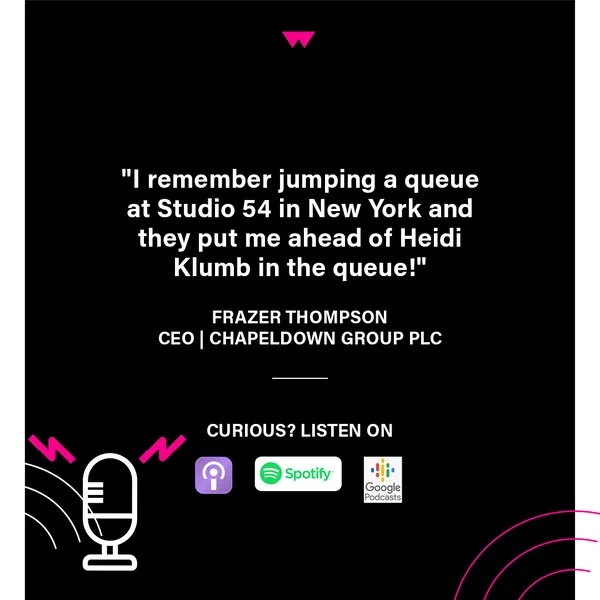 Listen now :
The Wonderful People Podcast is available on Apple Podcasts / iTunes, Google Podcasts, Spotify, TuneIn… in fact, you can even ask your smart speaker to play it (try saying "Alexa, play The Wonderful People Podcast").
With new episodes released regularly, it's definitely worth subscribing to hear some phenomenal stories from creatives, technologists and digital pioneers.
Enjoying The Wonderful People Podcast?
Please Subscribe, Share and Leave us a Review on your podcast platform of choice so we can continue to grow this into a platform for sharing truly wonderful stories from some of the most amazing people in our industry and beyond.