Hosts Dan Maudhub and Phil Jones are joined by Graham Goodkind, Founder of Frank PR, who shares his unbelievable career highlights.
In this episode:
Graham's introduction to the industry and early career
His 90s dotcom venture
Career highlight: convincing Jimmy White to change his name
Career highlight: the controversial Any-Which-Way-A-Bix campaign
Career highlight: appearing on Bay Watch alongside Bobby Brown
Graham's role as a Dutch Uncle™
About This Wonderful Person:
Graham Goodkind is the Founder and Chairman of Frank, one of the UK's most respected, creative and consistently award-winning consumer public relations consultancies. Based in Farringdon, clients currently include Weetabix, KIND Snacks, Mars, Renault UK, Burger King, VW Group, Huawei and Innocent. The company was started by Graham in September 2000 with a very focused  ambition of coming up with great ideas which generated Talkability® for clients.
Graham has won just about every PR award there is and has been variously described by PR  Week, the industry bible, as "a legend in consumer PR, cited by many as an idol," "a cheerful and bullish operator," and "a bundle of self-deprecating energy".
In this episode Graham shares unbelievable highlights from his career. Listen for some surprising stories and lessons on following your passion and the incredible power of creativity.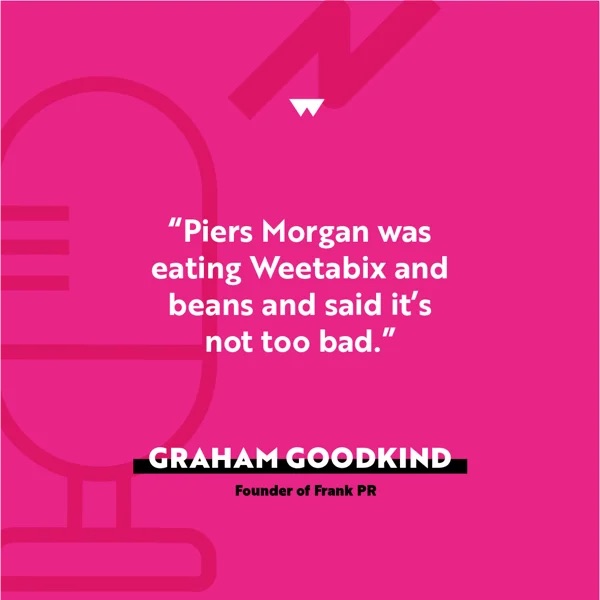 Listen now :
The Wonderful People Podcast is available on Apple Podcasts / iTunes, Google Podcasts, Spotify, TuneIn… in fact, you can even ask your smart speaker to play it (try saying "Alexa, play The Wonderful People Podcast").
With new episodes released regularly, it's definitely worth subscribing to hear some phenomenal stories from creatives, technologists and digital pioneers.
Enjoying The Wonderful People Podcast?
Please Subscribe, Share and Leave us a Review on your podcast platform of choice so we can continue to grow this into a platform for sharing truly wonderful stories from some of the most amazing people in our industry and beyond.