In this episode:
Hosts Dan & Phil chat to Michelle Carney, CEO of Special Olympics GB about the journey that brought a lass from up north, to one of the top roles in disability sports via Australia and South Africa. Listen in to her inspiring devotion in helping transform lives for those who live with an intellectual disability through sport. Changing the conversation and perception of intellectual disability, and adapting to our new digital world.
About this Wonderful Person:
Michelle has had a varied career and has worked in the UK, USA, Australia and Africa. Her early career was in developing sport for disabled people.  She has worked at CEO/Director level since 2002, leading a number of grass roots sports partnerships and organisations. Michelle has worked in the commercial sector, professional sport, international development and international sport for development.
Michelle is passionate about leadership and transformation and has an MSc in Leadership & Organisational Change. She is also passionate about empowering others and coaches and mentors many young aspiring leaders across the globe.
Michelle joined Special Olympics GB in 2018 and has been leading a full organisational transformation, which will fundamentally transform lives for the 1.7million people who live with an intellectual disability, through sport. Ultimately, Michelle's role is to empower and influence. She is passionate about creating environments which give athletes a voice and a platform to change perceptions of intellectual disability.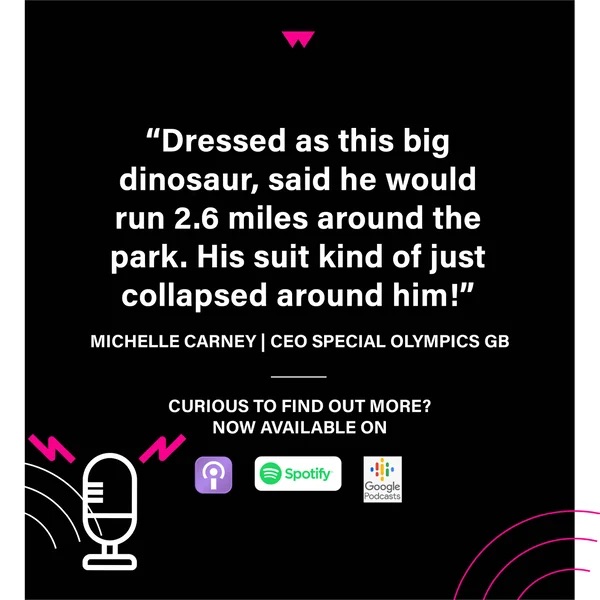 Listen now :
The Wonderful People Podcast is available on Apple Podcasts / iTunes, Google Podcasts, Spotify, TuneIn… in fact, you can even ask your smart speaker to play it (try saying "Alexa, play The Wonderful People Podcast").
With new episodes released regularly, it's definitely worth subscribing to hear some phenomenal stories from creatives, technologists and digital pioneers.
Enjoying The Wonderful People Podcast?
Please Subscribe, Share and Leave us a Review on your podcast platform of choice so we can continue to grow this into a platform for sharing truly wonderful stories from some of the most amazing people in our industry and beyond.