In this episode:
Hosts Dan Maudhub and Phil Jones are joined by Paul Barber, The Chief Executive and Deputy Chairman of Brighton & Hove Albion Football Club, as he shares his experiences within marketing and the sporting world.
About this Wonderful Person:
Paul Barber– Chief executive and Deputy Chairman of Brighton & Hove Albion Football club
Born and bred less than a mile from White Hart Lane, football has always been a huge part of Paul Barber's life.
His early studies within marketing and communications from junior to senior levels led him to receive a call from the FA shortly after Euro 96.
Eventually, Mr. Barber would become The FA's  Marketing Director on a full-time basis, after working with them voluntarily on a part-time basis for two years.
Mr. Barber helped to modernise and commercialise the FA through his works. Placing an emphasis on supporting English football from grassroots to the highest level; prioritising Women's football, the youth academy system, and also accessibility to disabled players.
His notable works include working with the England team at major tournaments, including the UEFA European Championships in 2000 in Belgium/Holland and the 2002 FIFA World Cup in Japan/Korea; promoting The FA Cup, and re-branding the FA to help make it a more modern, forward-thinking organisation.
Later on, as a non-executive director at London-based club Tottenham Hotspur FC and US-based club Vancouver Whitecaps FC, Mr. Barber continued to contribute to the advancement of football which still goes on today with his current club.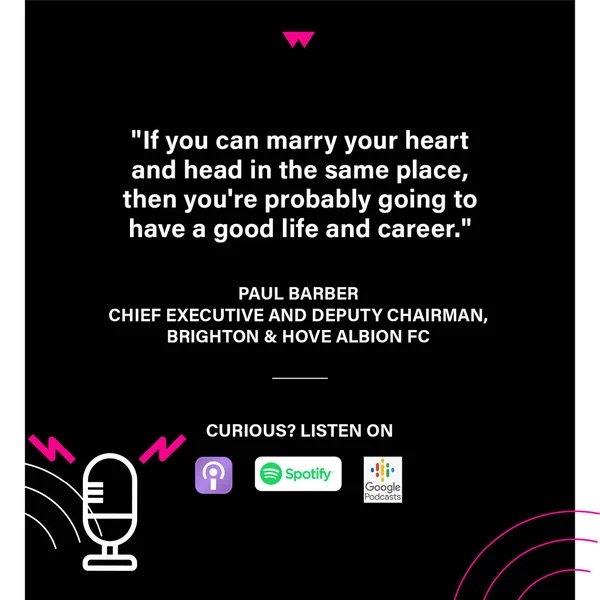 Listen now :
The Wonderful People Podcast is available on Apple Podcasts / iTunes, Google Podcasts, Spotify, TuneIn… in fact, you can even ask your smart speaker to play it (try saying "Alexa, play The Wonderful People Podcast").
With new episodes released regularly, it's definitely worth subscribing to hear some phenomenal stories from creatives, technologists and digital pioneers.
Enjoying The Wonderful People Podcast?
Please Subscribe, Share and Leave us a Review on your podcast platform of choice so we can continue to grow this into a platform for sharing truly wonderful stories from some of the most amazing people in our industry and beyond.