In this episode:
Hosts Dan Maudhub and Phil Jones are joined by Tim Hollingsworth OBE, CEO of Sport England. He shares his contagious passion for sport and inclusion, the role of digital and data in making sport more accessible, fond memories of the Rio Olympics, and a couple of his favourite anthems – listen to find out what makes Tim a Wonderful person.
About this Wonderful Person:
Tim Hollingsworth is the Chief Executive of Sport England, the agency responsible for delivering sport and physical activity at community and grassroots level across England. He has held the role since November 2018.
For seven years prior to this, Tim was Chief Executive at the British Paralympic Association, the National Paralympic Committee for the United Kingdom. In that time he served as Secretary General for ParalympicsGB at four Paralympic Games, including London 2012, and during which time the team recorded its best ever medal performance at both a summer and winter Games.
Prior to that, Tim was first Director of Policy & Communications and then Chief Operating Officer at UK Sport. Previously, Tim worked as Director of a strategic communications consultancy, HBL Media, as Head of Corporate Communications at Granada Media plc, and Head of Media Relations at the CBI.
Tim is also currently a Council Member of the University of Bath, a Trustee of the Football Foundation and a Member of the International Paralympic Committee's Paralympic Games Committee.
He holds Honorary Degrees from both Bath and Exeter University and received an OBE for services to sport in the 2017 Queen's New Year Honours List
He graduated from Exeter University with a BA Hons in English and Drama and a Masters Degree in Drama and has spent his career since convincing people how valuable to his career those qualifications have been.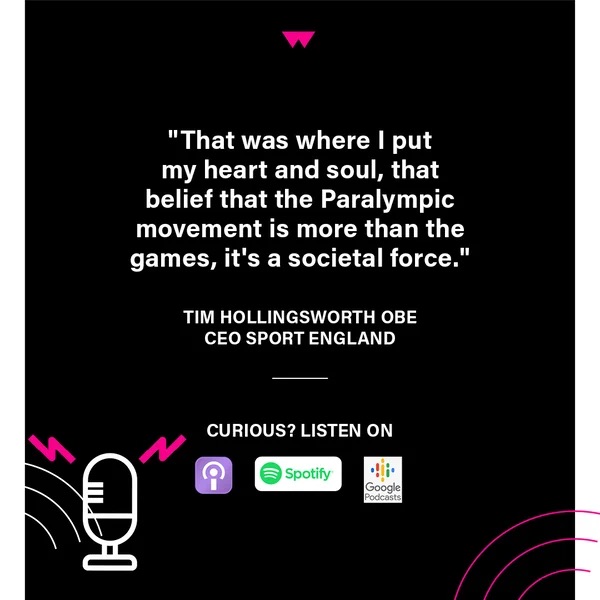 Listen now :
The Wonderful People Podcast is available on Apple Podcasts / iTunes, Google Podcasts, Spotify, TuneIn… in fact, you can even ask your smart speaker to play it (try saying "Alexa, play The Wonderful People Podcast").
With new episodes released regularly, it's definitely worth subscribing to hear some phenomenal stories from creatives, technologists and digital pioneers.
Enjoying The Wonderful People Podcast?
Please Subscribe, Share and Leave us a Review on your podcast platform of choice so we can continue to grow this into a platform for sharing truly wonderful stories from some of the most amazing people in our industry and beyond.