In this episode:
Hosts Dan Maudhub and Phil Jones are joined by Viktorija Grigorjevaite, Founder of Sane Seven, – a top 200 Ad Photography company who shares stories of humble beginnings, learning by mistakes, and photographing some of the biggest and brightest stars and celebrities – Hollywood and even political! Highlights include her experience photographing Jimmy Choo, building a robot, life lessons learnt as a specialist in her craft, and her opinion on "luck" verses hard work.
About this Wonderful Person:
Viktorija Grigorjevaite – Founder, Sane Seven
Sane Seven is a female photographer who immigrated to the UK from a small village in Lithuania to become one of the most sought-after portrait photographers in the world.
Viktorija Grigorjevaite 'founded' Sane Seven (www.saneseven.com) both as a company and as her new name to replace the need for people to pronounce her tongue twisting surname. She works in tandem with her life partner Marius who prefers to stay out of the limelight. He's the ideas guy who sometimes raises eyebrows of brand owners with daring creative ideas that frequently branded the couple as insane (in a positive way). This often meant taking a step back where things still sounded 'sane' (hence the name). 'Seven' derived from the number Viktorija and Marius had in school journals as kids. It also refers to the ambition to be known on all 7 continents.
Delving into photography 8 years ago after leaving her safety net waitressing job, she joined Lee Hagan as a photographer and later as a creative director in his fashion/art/lifestyle magazine. They travelled the world often mingling with A-listers. This once 'village girl' from Lithuania found herself in the same party rooms as the Hilfiggers, Jimmy Choos, and Samuel Jackson's of the world.
Sane Seven was then birthed in 2014. After forming a creative partnership with UX Creative brand agency led by Andy Broadwood, they created the campaign 'Sleeping Patterns' for Simba, which lead to their accolade at the Design Week awards and winning numerous Ad Photographer of the year awards in international photography competitions. A year later, they were selected to feature in the 200 Best Ad Photographers Worldwide 2018-2019.
The couple is known for their unconventional portraits of philanthropists, multimillionaire entrepreneurs, and business executives of big brands like Tesco, Liverpool FC, Rolls Royce, Bentley and more. That recognition came from a big outdoor exhibition that took place during the world's biggest business festival IFB and a self-published book that featured 33 business leaders and their inspiring stories (www.s7publishing.co.uk).
They have engaged in projects tackling pressing social issues, ranging from gender equality campaigns, Islamophobia and LGBT issues to period shaming and environmental issues.
Marius has since the pandemic worked on a remote robot photography concept that would put an end to unnecessary travel, enabling disabled artists to take part in the photography industry with the help of the latest technologies.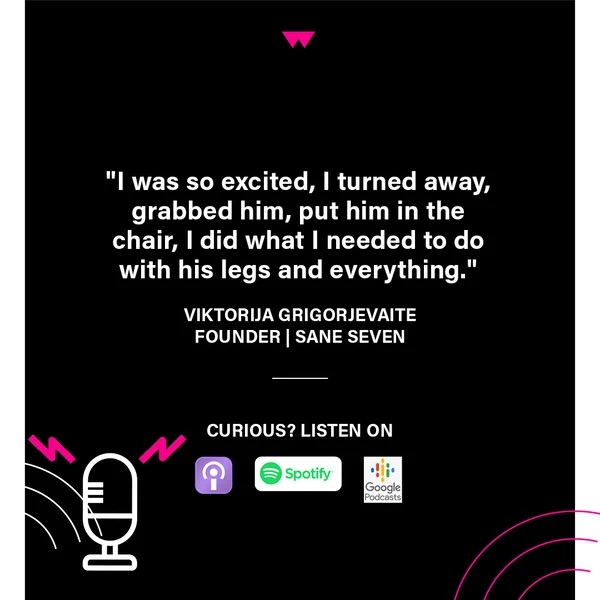 Listen now :
The Wonderful People Podcast is available on Apple Podcasts / iTunes, Google Podcasts, Spotify, TuneIn… in fact, you can even ask your smart speaker to play it (try saying "Alexa, play The Wonderful People Podcast").
With new episodes released regularly, it's definitely worth subscribing to hear some phenomenal stories from creatives, technologists and digital pioneers.
Enjoying The Wonderful People Podcast?
Please Subscribe, Share and Leave us a Review on your podcast platform of choice so we can continue to grow this into a platform for sharing truly wonderful stories from some of the most amazing people in our industry and beyond.